In August 2000, Lifan pay 55.8 million CNY to acquisition Huandao football club, and won the FA Champion Cup at the same year.
December 30, 2001, Lifan motorcycle successful to leap Vietnam's mother river - the Red River.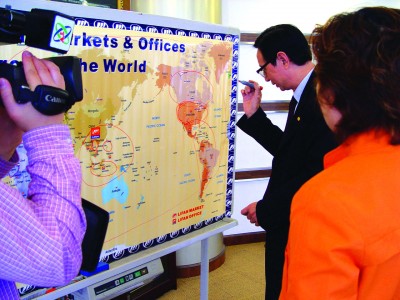 In 2001, Lifan Group export (including indirect exports) 202 million U.S. dollars in the national motorcycle export enterprises, Lifan is the first enterprises in who break through 100 million U.S. dollars; also taxes 113.6 million CNY, is the first enterprises in Chongqing tax over 100 million, to achieve the "Double 100 million".
In 2001, Lifan Group contribute 1.8 million in the Jinggangshan, Ruijin, Zunyi, Yan'an, Xibaipo old revolutionary base areas built five "Lifan glory School", thus opened the prelude of "Lifan glory School" building.
May 31, 2002, Lifan Group employees DENG Song, Luo Hongtao drive LF150GY success to climbing Nepal Peak Pajoma of 6187 meters above sea level, created a new motorcycle climbing extreme sports record.
In November 2002, Lifan motorcycle successful to wirewalk to leap Dadu River, once again proved that Lifan motorcycle's first-class quality and performance.
In 2002, Lifan water-cooled motorcycle advent.
January 11, 2003, Mr. Yin Mingshan, chairman of Lifan Holding Co., Ltd. was elected as the second session of the Chongqing Municipal Committee Vice-Chairman, becoming the first who since the reform and opening up access to the provincial CPPCC leadership of the private entrepreneurs.
In April 2003, Lifan Group donated 2.25 million CNY to Chongqing government for the "SARS" prevention and control work.
In March 2004, China President Mr.Hu Jintao met with Chairman of Lifan Group Mr. Yin Mingshan.
In July 2005, the National Motorcycle "emissions two-stage" on-site supervision and inspection of Lifan Group has officially announced through the National Motorcycle "emission two-stage" (Europe II) production consistency checks, thus, Lifan become the first Motorcycle enterprises which through the National Motor "Europe II" inspection.
In December 2005, Lifan 520 sedan unveiled in Kuala Lumpur, Malaysia's East Asia Business Exhibition, China Premier Wen Jiabao Praised Lifan 520 sedan.
January 19, 2006, Lifan 520 sedan which independently developed by Lifan Group, to become available in the Global market.
January 19, 2007, the 10000th Lifan 520 sedan off the assembly line.